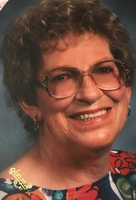 Barbara A. Johnson
Barbara A. Johnson, 83, of Marienville, passed away Friday, December 14, 2018 surrounded by her loving family.
She was born September 27, 1935 in Alden, NY to the late Robert and Helen Killian Walter.
Barbara had worked for the Clarion Forest Visiting Nurse Association for over 25 years as a home health aide before she retired. She was a member of St. Mary Catholic Church in Crown. Barbara was also a member of the Farmington Township Volunteer Fire Department Ladies Auxiliary. She enjoyed reading but her greatest joy in life was her family, her children, grandchildren and great grandchildren were her life.
She is survived by her five children: Ronald Johnson and wife Kathy, of Tylersburg, Juanita Bauer, of Lucinda, Pamela Dolby and husband Stan, of Lucinda, Toby Johnson and wife Pam, of Clarion, and Dan Johnson and wife Diana, of Clarendon; twelve grandchildren; nine great grandchildren; sisters Marilyn Weidrich, of Buffalo, NY and Judy Heineman of Alden, NY.
In addition to her parents she was preceded in death by a daughter, Amanda, and a brother Robert P. Walter.
Friends and family will be received Tuesday, December 18, 2018 from 2:00 pm to 4:00 pm and 6:00 pm to 8:00 pm at the Borland-Ensminger Funeral Home, Inc. in Leeper. Mass of Christian burial will take place Wednesday, December 19, 2018 10:00 am at St. Mary Catholic Church in Crown with the Rev. Christopher Barnes, pastor, as celebrant. Interment will follow in the Scotch Hill Cemetery.
Memorial contributions may be made to the Clarion Forest Visiting Nurse Assoc. Inc., 271 Perkins Road, Clarion, PA 16214 or Clarion Health Care and Rehabilitation 999 Heidrick St. Clarion, PA ?16214-1745.
The family would also like to give a special thank you to Clarion Health Care and Rehabilitation for the wonderful care given to their mom.