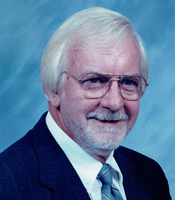 David G "Dave" Aaron
David "Dave" G. Aaron Sr., 77, of Clarion passed away surrounded by his loving family Wednesday, December 5, 2018.
He was born on October 7, 1941 in Warren, PA to the late Clarence J. and Edith E. Hildum Aaron.
David married the love of his life, Eleanor "Ellie" E. Wolbert, who survives, on December 7, 1960 in Yadkinville, NC. They had been married for almost 58 years.
He worked as an attendant at the Warren State Hospital in his younger years. After that he was employed as a mechanic for Hunters International Trucking, which he considered the best job with the best boss. He also taught adult education and vocational education at the Clarion County Career Center for 24 years.
David enjoyed hunting, restoring classic cars, and camping in their motorhome. He was a man who could fix anything…except that one thing. He loved spending time with his family, grandchildren and great grandchildren. He was very proud of his family. He was a member of St. Joseph Catholic Church in Lucinda and also attended Immaculate Conception Church in Clarion.
In addition to his wife, he is survived by his children: Deborah L. Henry-Kuhns and husband Hugh, of Lucinda, Sheryl L. Whitton and husband Donald Paul, of Marienville, David G. Aaron Jr. and wife Dawn, of Lucinda, and Sandra L. Hargenrader and husband Donald Jr., of New Wilmington; grandchildren: Jocelynn (William) Stockdill, Katelynn (Donald) Fauzey, Charlene (Bradley) Walker, Debra McCloskey (Michael Sweeney), Allison Kessler, Nathan (Rebecca) Hargenrader, Kelsey Hargenrader (Sean Brown), Aubrie Hargenrader; great grandchildren: Blaine Fauzey and Ellie Stockdill; sister Norma J. Dehner; brother in-law Robert Hall; and numerous nieces and nephews.
He was preceded in death by his parents and a sister Donna Hall.
A private viewing will be held at the convenience of the family. A mass of Christian burial will be held Monday, December 10, 2018 at 10:00 a.m. at St. Joseph Catholic Church in Lucinda, with the Rev. Joseph Czarkowski, pastor, as celebrant. Interment will take place in the St. Joseph Cemetery.
A special thank you to the Clarion Forest VNA hospice, the Clarion Cancer Center, and all who cared for David.
Memorial contributions may be made to Clarion Forest VNA Hospice Program, 271 Perkins Road, Clarion, PA 16214, The Cancer Center, 1 Hospital Drive, Clarion, PA 16214, or a charity of one's choice.